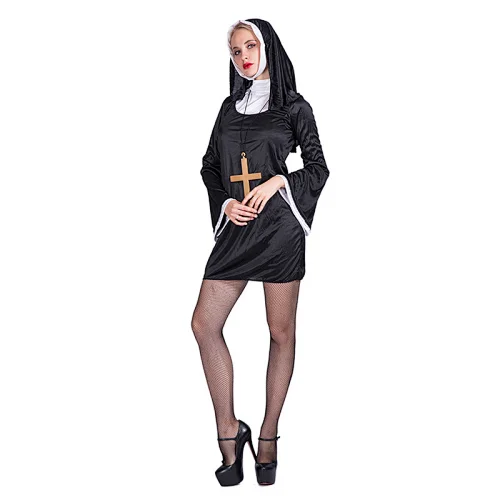 The Naughty Sister cosplay
Supply Type:OEM,ODM
SIZE : S, M, L, XL
Color: As shown
MATERIAL:90%Polyester+10%Elastane
Shipping:By sea, by air or express
Term of payment:T/T, Paypal, Western union
Place of origin:China(Mainland)
Price: Welcome Inquiry
Wizarding World of Harry Potter Halloween Costumes are Perfect for Comic-Con, Cosplaying, Costume Parties & More
An entire generation's childhoods were shaped by J.K. Rowling's magical series, which has been adapted into an equally magical movie franchise. If you want to pay tribute to the Boy Who Lived (and his friends) in style, you can't go wrong with one of these costumes! Wearing these costumes goes beyond just Halloween night. You might just be surprised by how many opportunities to show off your wizard garb come up, including:

Comic-Con: This weeklong event is known for its celebration of all things nerd culture and fandom. Participants regularly attend wearing their finest costume from a favorite franchise. These Harry Potter character outfits will fit right in and will make getting ready for the event super easy and convenient!

Cosplay: Sometimes it's just fun to dress up as somebody else. Our costumes are a fast way to transform into your favorite Harry Potter character for any special cosplay event or gathering. If you spot any other wizards, be sure to challenge them to a dual!

Costume Parties: What do you do when a costume party is right around the corner and you have nothing to wear? Get one of these awesome wizard or witch outfits of course! Our costumes look great and are sure to impress your friends when you make your grand entrance on your Nimbus 2000 or apparate in.

Harry Potter Accessories and Costumes for Witches & Wizards of All Ages
Our Harry Potter Halloween costume collection includes an arrangement of options for adults and kids alike! Wizards and witches can complete their look with an assortment of accessories available on this website including: wizard wands, flying brooms, The Sorting Hat and Quidditch gear.