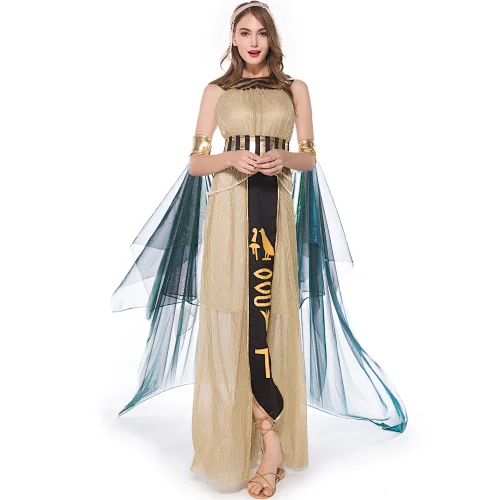 Cleopatra
SIZE : S, M, L, XL
Color: As shown
MATERIAL:90%Polyester+10%Elastane
Shipping:By sea, by air or express
Term of payment:T/T, Paypal, Western union
Place of origin:China(Mainland)
Price: Welcome Inquiry
Trending Women's Halloween Costumes
Not sure what you want to be this year for Halloween? From sexy Halloween costumes to scary to funny and everything in between, we can help you get into character with tons of Halloween costumes for women! The Wonder Woman trend is still going strong, but other superheroes like Batgirl, Catwoman, Supergirl, Black Widow and even Elasti-Girl from the Incredibles are expected to be cleopatra popular again this year. When you're planning your costume, make sure to put a personal spin on it with superhero accessories like boot covers, wigs, weapons and more. cleopatra costumes With so many different options and ways to mix and match, it's possible to pull together a costume that's all you. Another trend that's expected to stay strong this year is princesses and fairytale costumes. Unleash your inner princess with women's queen cleopatra Halloween costumes from popular Disney movies such as Beauty and the Beast, Sleeping Beauty, Cinderella, Frozen, Tangled, Alice in Wonderland and so many more. Or, go for something traditional, such as costumes from the Wizard of Oz, Peter Pan or fairytales like Little Red Riding Hood, Robin Hood or cleopatra  Snow White.


If you're looking to dress up as something more traditional, you can't go wrong with our selection of cleopatra costume classic and gothic and scary Halloween costumes for women. We have a huge selection of pirates, 50s girls with poodle skirts, hippies, cheerleaders, 20s flappers, Renaissance queens, punk rockers, southern belles and more. Of course, Halloween isn't complete without some fright! If you're going to an adult costume party or just want to spook your trick-or-treaters, consider going with one of our scary Halloween costumes for women. You can choose from the Grim Reaper, vampires, devils, zombies, witches, skeletons and mummies!