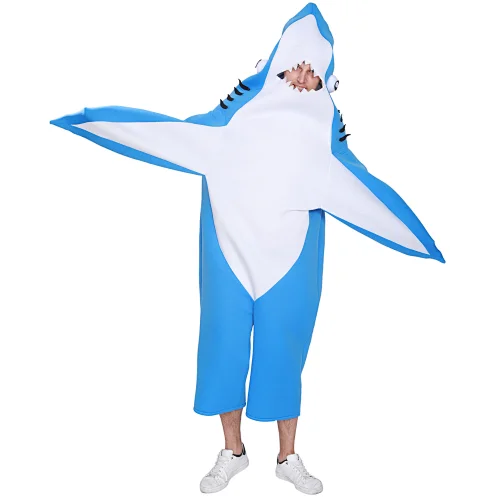 Big Shark One-joined Sponge Clothing
Supply Type:OEM,ODM
SIZE : S, M, L, XL
Color: As shown
MATERIAL:90%Polyester+10%Elastane
Shipping:By sea, by air or express
Term of payment:T/T, Paypal, Western union
Place of origin:China(Mainland)
Price: Welcome Inquiry
shark clothing,big shark,sponge clothing,sponge big,big sponge Put together a spirited gathering with our assortment of Halloween party decorations, supplies, games, make up and accessories!
Theatrical costume Stage clothes
"Costume"often refers to a particular style of clothing worn to portray the wearer as a character or type of character at a social event in a theatrical performance on the stage or in film or television. In combination with other aspects of stagecraft, theatrical costumes can help actors portray characters' and their contexts as well as communicate information about the historical period/era, geographic location and time of day, season or weather of the theatrical performance. Some stylized theatrical costumes, such as Harlequin and Pantaloon in the Commedia dell'arte, exaggerate an aspect of a character.

Actors in samurai costume at the Kyoto Eigamura film set
Costume construction
A costume technician is a term used for a person that constructs and/or alters the costumes. The costume technician is responsible for taking the two dimensional sketch and translating it to create a garment that resembles the designer's rendering. It is important for a technician to keep the ideas of the designer in mind when building the garment.

Draping and cutting
Draping is the art of manipulating the fabric using pins and hand stitching to create structure on a body. This is usually done on a dress form to get the adequate shape for the performer. Cutting is the act of laying out fabric on a flat surface, using scissors to cut and follow along a pattern. These pieces are put together to create a final costume.